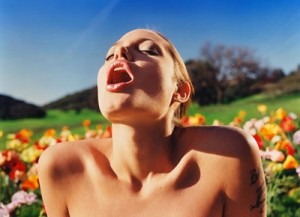 "Hey guys, I found some great new videos." The Boss says with his best telemarketer's smile. "I think everyone here should buy one."
"If it's that great." I say. "Why don't you buy it for us?"
"These videos are for your benefit." He says and nods sagely. "Don't you want to improve as a photographer?"
I'm all for improving my skills and learning how to use the tools that I have at my disposal.  The problem with pretty much all Portrait Photography books, DVDs, YouTube videos, e-courses, and workshops is that they are made by and for Studio Photographers, not Assembly Line Portrait Photographers.
There are a few difference between Assembly Line Portrait Studios and Independent Portrait Studios.  An Independent Studio will usually have only a handful of photographers, maybe only one.  This photographer will have direct control over the equipment he/she uses, the size of their shooting area, and what type of subjects will come into the studio to be photographed. They may be college educated and may supplement that education with workshops or attending the many Professional photography conferences held each year.  They may be active in local business and photography organizations.  Photography is a passion.
An Assembly Line Portrait photographer is usually one of dozens, if not hundreds, of photographers wandering around the country doing location Shoots where the room is never the same shape, size, or color.  The equipment is what is handed to him/her after two to six weeks of on the job training.  The subjects are found by The Company and are often not interesting at all in having their portraits taken.  Professional Photography organizations can cost hundreds of dollars a year to join-money the Assembly Line Portrait Photographer doesn't have to spend.  For many, being a photographer is just a job.
There are few things more discouraging than having The Company send out newsletters filled with images that they think all of their photographers should be taking.  Sometimes there is nothing wrong with these images and they were even taken in one of The Company's Assembly Line Studios.  But more often than not, these are images which can't be duplicated due to either the subject or the props used in the photos.  People wearing Ren Faire clothes or posing with a cello are nice, and they are good signs that the people photographed want to buy portraits.  But that is not who we see come through the door.  Our average customers walks in wearing a suit jacket and a pair of shorts, since the Book photo is only from the waist up.
From time to time we are told we should buy this book or that DVD and see how real photographers work.  The Boss recently suggested we buy a set of DVDs which feature a lot of Wedding Photographers doing outdoor location shoots.  All of these photographers have assistants, brand new top of the line digital cameras, and do massive amounts of post processing in Photoshop.  These are not all wedding photographers-some are high school senior photographers-but they are all photographers that take a ton of images and spend all day on a shoot.  The one image I found on the DVD's site of a family being photographed was in a studio with half a dozen lights focused on and about a twenty foot wide, full length background.
I have nothing against Wedding Photographers or Independent Portrait Photographers supplementing their income with a bit of How I Do It video.  More power to them.  I like most of the videos on YouTube.  But I only own about  five portrait photography books that have information I can use on the job.  I have flipped through a few dozen portrait books that have nothing to offer me.  I don't need information on outdoor portraits, weddings, natural light photography, boudoir, or high school seniors.
I see a lot of little old ladies and a lot of older couples.  These are the people who do most of the buying-so what does The Company send me sample images of?  Pretty young families laying on the floor.  The Company wants to be a little more competitive with the Independent Portrait Studios-modern posing, spending a little more time in the Camera Room, offering a few new products.  So far as I know we are not moving into Wedding Photography, but hey, anything is possible.  Poses, Props, and Sheets was the mantra of one Company, and it is still a pretty good trio.
David LaChapelle is an over the top portrait photographer who really loves naked women and elaborate sets.  He had a Workshop in Dublin last year.  If The Company really wants us to broaden our photographic vision, I think they should hook us up with a Workshop in some exotic location with David LaChapelle.  I could go for that.